Exterior Drainage for Basement Waterproofing
Exterior water management is an important component to your home's overall health and longevity. It can also be a conservative approach for solving basement waterproofing problems, because when you safely direct water away from your home you have less water that can potentially enter your home, thereby improving conditions around your home to reduce or even eliminate seepage issues in your basement or crawl space. When exterior drainage systems are properly designed, installed, or upgraded they address the root cause of many waterproofing and foundation repair-related problems. These systems can add additional value and avoid costly repairs to the interior of your home.
Before investing elsewhere in your home, homeowners should consider protecting your investment from damage caused by a failing exterior water management system. No one wants to spend the time and money remodeling their basement just to have it ruined by rainwater! The Atlas Restoration team has tackled drainage problems and water management issues throughout the Chicago area. We understand the importance of protecting your yard and basement, which is why we offer the following exterior drainage services and solutions:
Installing underground extensions for sump pump or downspout discharge
Hydraway exterior drainage system installation
French/trench drain installation
Underground dry well installation
Window well liners, covers, and drainage system installation
French Drain System
Flat yards with no slope are at a disadvantage when it comes to water as the movement of water through the earth is minimal and heavy rainfall often causes pooling or flooding in the yard. A French drain system, sometimes referred to as a trench drain or a weeping tile, is a narrow trench that can be filled with gravel or rock and contains a pipe and rigid drain tile. This system intercepts and diverts groundwater through its trench and deposits it where you want it, such as a rain barrel or municipal storm drain, making it ideal for removing excess water below the ground surface in flat yards.
Hydraway Drain Tile System
Hydraway drain tile is made of heavy-duty, clog-resistant material that allows for high flow rates for rapid dewatering of your yard. The Hydraway system was originally designed for roads, runways, and sports fields as an alternative to the traditional "pipe and rock" drainage systems.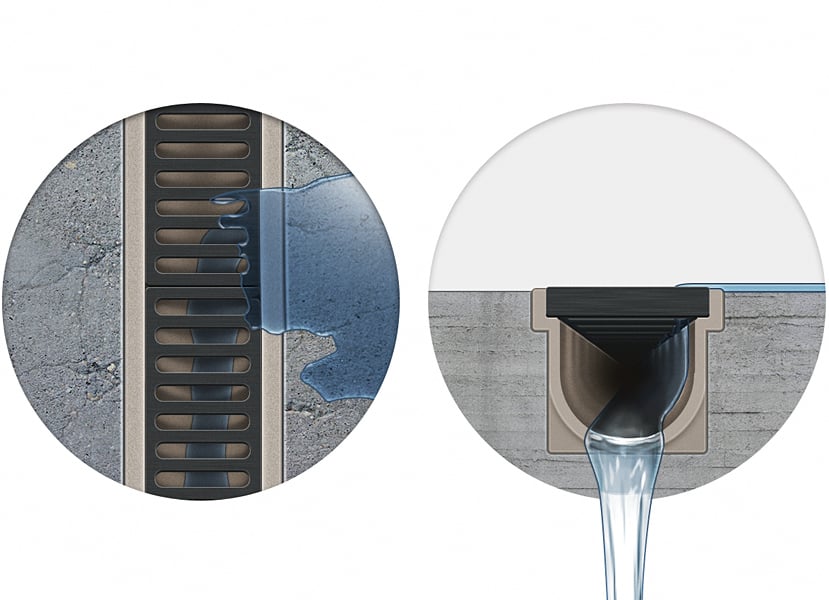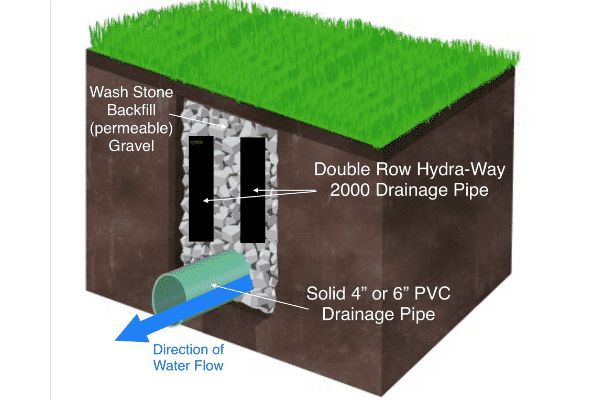 Yard Pooling or Flooding
An undersized or inadequate gutter and downspout system or a failing drainage system can result in pooling water that leads to flooding in your yard. This increases the soil's pressure against your home's foundation walls and can contribute to seepage-related problems in your basement or crawl space. This seepage can cause expensive damage to your possessions, fixtures, and even the structural integrity of your home.
Your yard should be a flood-free, clean, and open space for you and your family to enjoy. Atlas Restoration can prevent water from flooding your lawn and keep your basement seepage free with our exterior drainage services.
Call Atlas for a free inspection in Chicagoland!
Atlas Restoration's team of drainage contractors will carefully examine your yard's characteristics, including its slope, soil type and proximity to your home. We will then determine how to effectively restore your yard and avoid flooding. If you need drain installation in the Chicago area, call the drainage contractors at Atlas Restoration today.