Beam and Column Repair
Rotting wood columns or rusting steel columns are a major concern for homeowners. Signs of these potentially dangerous issues are not always obvious, and can include:
Uneven floors
Cracks in drywall
Doorframes leaning or doors sticking
The Problem
Problems with your home's columns are caused by a number of factors, some of which include:
Wood columns can absorb moisture and rot at the base
The existing stone or concrete piers can fail and sink
Non-engineered columns and piers cannot support the loads above
The Solution
The wood beam is temporarily shored to remove the load off of the existing column(s). Now the floors can be brought back up to their appropriate level utilizing a series of hydraulic jacks manifolded together.
The columns and piers are then removed.
New piers are formed and poured.
3 ½" Schedule 40 steel columns are installed on the piers and adjusted to their appropriate height using adjustable 100 ton screw jacks.
Once the beam load has been transferred to the new steel columns, the temporary shoring is removed and the work site is thoroughly cleaned.
Your Chicagoland home and your peace of mind are now in their right places!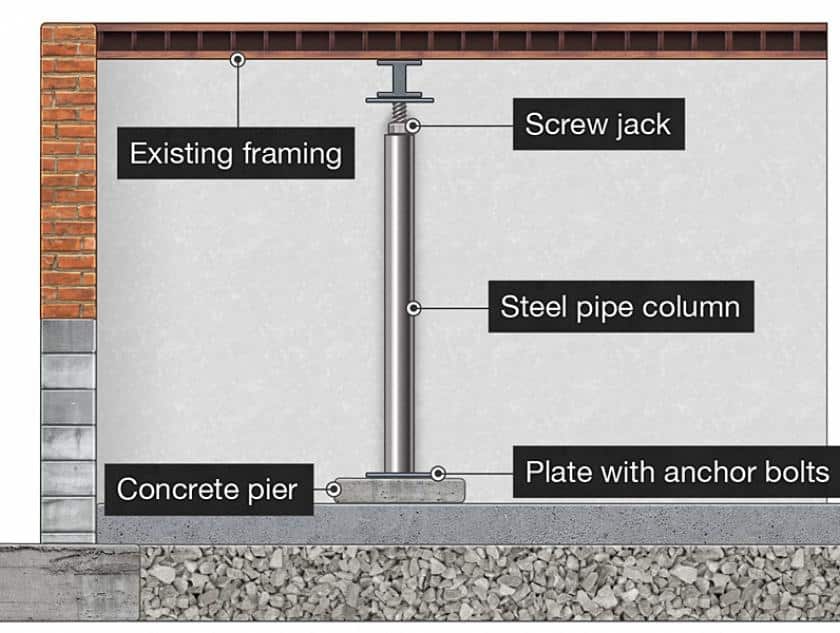 Are these your symptoms?
Uneven Floors
Cracks in Drywall
Doorframes Leaning or Doors Sinking